A celebration of Inter Faith Week in Cheltenham
Published on 6th November 2017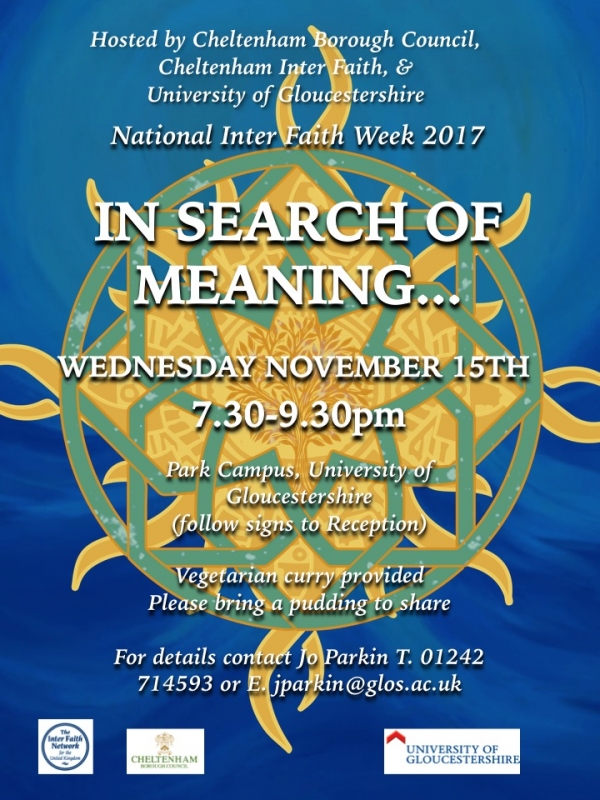 A free event will be held Wednesday 15 November 7.30pm at the University of Gloucestershire, Park Campus to celebrate Inter Faith week.
Different faith communities will come together once again on Wednesday 15 November to mark national Inter Faith week.
The theme for Cheltenham's main event this year is 'What makes life meaningful for you?' and aims to bring together different faith and non-faith communities and to strengthen good relations.
The evening will start with a vegetarian curry, and everyone is invited to bring a sweet dish to share for pudding. During the event, there will be short presentations made by a panel of local faith representatives, opportunities for personal discussions, plus music and devotional acts to close.
The local event is being delivered in partnership by the University of Gloucestershire, Cheltenham Inter Faith and Cheltenham Borough Council.
Father Peter Slocombe, chair of Cheltenham Inter Faith said: "At a time when church going is in decline, religious awareness has never been more vital in understanding world affairs. National Inter Faith Week gives everyone the opportunity to learn about religion and its significance for today."
Jo Parkin, chaplain for the University of Gloucestershire said: "Once again, the University of Gloucestershire are proud to be co-hosting this annual celebration of National Inter Faith Week. We look forward to welcoming members of local faith groups, students, staff and the wider community as we come together to share experiences of searching for and finding meaning in our lives."
Cllr Flo Clucas, cabinet member for healthy lifestyles, continued: "Cheltenham Borough Council is delighted to support this fantastic opportunity for people of different beliefs to come together, to learn more about each other and to increase understanding. Everyone is welcome to join and take part."
Anyone is welcome to attend this free event. For more details, please contact Louise Forey on 01242 774960 or Jo Parkin on 01242 714593.
---
For media enquiries, contact: Jemima Lawson, communications officer, telephone 01242 775050, email communications@cheltenham.gov.uk.
Photo opportunities are available.
Further information:
When: Wednesday 15 November, 7.30pm
Where: University of Gloucestershire, Park Campus, The Park
National Inter Faith Week www.interfaithweek.org, now in its ninth year, takes place this year from 12-19 November.
The week aims to:
Strengthen good inter faith relations at all levels
Increase awareness of the different and distinct faith communities in the UK, in particular celebrating and building on the contribution which their members make to their neighbourhoods and to wider society
Increase understanding between people of religious and non-religious beliefs so as to raise the level of religious literacy and awareness
Social media users are being encouraged to use the hashtags #IFWeek and #InterFaithWeek in tweets/posts about the week as well as to post photos, quotes and ideas linked to the aims of the week using the hashtag #InSearchOfMeaning.