Published on 3rd February 2020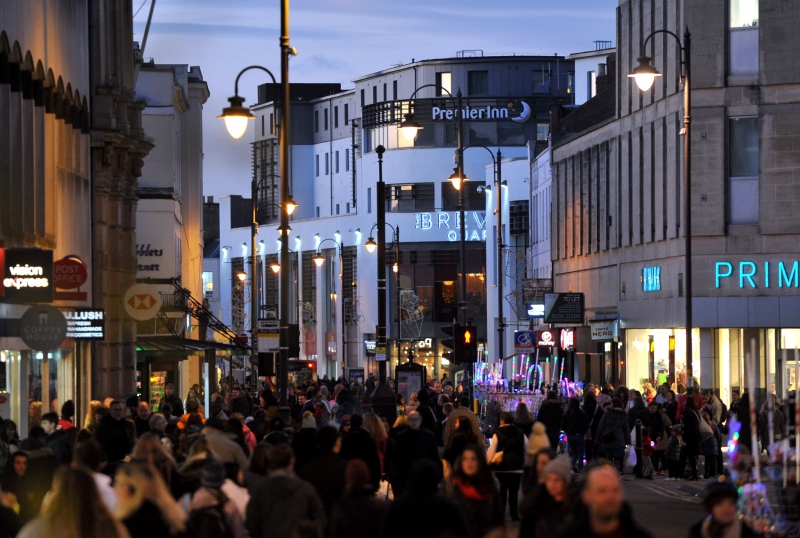 Cheltenham has successfully retained its Purple Flag award for the fourth consecutive year. The nationally recognised award is given to towns and cities that have an appealing, safe and welcoming evening and night-time economy.
Similar to the Blue Flag for beaches, the Purple Flag award aims to raise the standard and broaden the appeal of town and city centres between the hours of 5pm and 5am. Areas awarded the Purple Flag are recognised for providing a vibrant and diverse mix of dining, entertainment and culture while promoting the safety and wellbeing of visitors and local residents.
Councillor David Willingham, chairman of the licensing committee and night-time economy champion said: "Receiving the Purple Flag award is a testament to the dedication, collective hard work and successful partnership working with local business and venues, making sure everyone in Cheltenham can safely enjoy themselves. We are proud of what we have achieved for our town centre and would like to thank everyone involved for their efforts."
In their written feedback, the judgment panel who present the Purple Flag award made very positive comments about the renewal application and supporting documentation:
A great interim submission and one we always look forward to reviewing
An interesting highlights section around the rebranding of Cheltenham as the Festival Town
Another Purple Flag area showing great coverage throughout the year on building the Purple Flag profile
Development of a new strategy for the management of Cheltenham's evening and night-time economy
Some really positive reductions shown, including a reduction of 14.4% in alcohol related assaults
Really impressive interim submission, in which Cheltenham continues to demonstrate best practice within the evening and night-time economy with Purple Flag as the core driver
Colin Pilsworth, night-time economy coordinator for Cheltenham Borough Council and coordinator for Purple Flag in Cheltenham commented: "A thriving evening and night-time economy is crucial to the vitality and economic viability of our town."
"Our new partnership strategy for the management of Cheltenham's night-time offer has the vision of being accessible and appealing to every sector of the population and above all, safe. The renewal of our Purple Flag accreditation for a fourth year is confirmation that we are achieving this."
To find out more about what's on in Cheltenham, go to the Visit Cheltenham website.
---
About Purple Flag
The Purple Flag programme was developed following the Civic Trust's "Night Vision" report in 2006, and is now managed by the Association of Town & City Management.
Purple Flag is:
An accreditation process similar to Green Flag Award for parks and Blue Flag for beaches. It leads to Purple Flag status for town centres that meet or surpass the standards of excellence in managing the evening and night-time economy.
A comprehensive set of standards, management processes and good practice examples designed to help transform town and city centres at night.
A research, training and development programme, to help towns and cities improve their evening and night-time economy.
A positive initiative that indicates an entertaining, diverse, safe and enjoyable night out.