Published on 3rd July 2020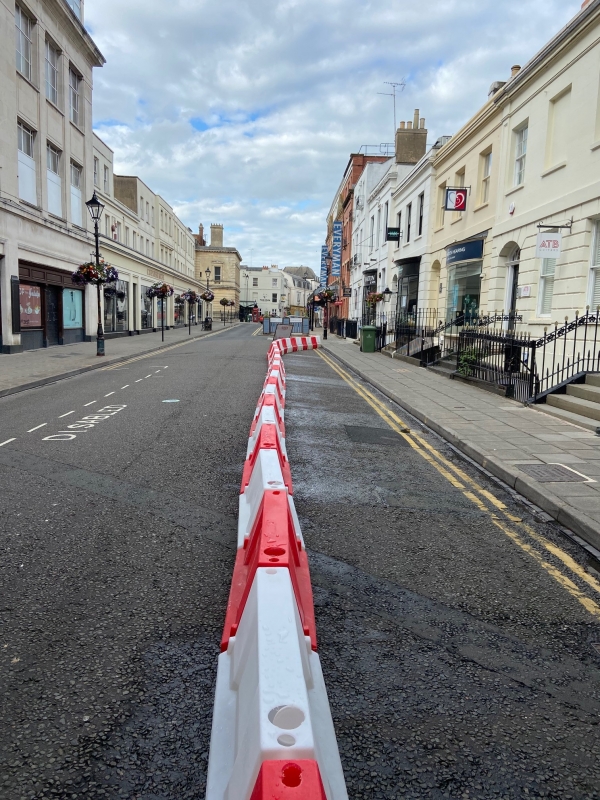 Ahead of the reopening of cafes, pubs and restaurants this weekend, Cheltenham has begun to implement plans to create more space for outside dining and safe social distancing.
Regent Street – which links the High Street to the Promenade and provides access to Cavendish House department store (House of Fraser), Regent Arcade shopping centre and the Everyman Theatre – is also home to a number of cafes, bars and restaurants, making it one of the most popular areas for food & drink in the town.
The new measures will allow the many hospitality businesses on Regent Street to extend out onto the pavement, providing additional seating for outside dining whilst ensuring that social distancing is in place. This temporary installation allows us to test the community's appetite for more choices to sit outside our cafes, bars and restaurants.
Following on from a number of the measures introduced in June to support the reopening of non-essential retail, Cheltenham Borough Council has continued to work at pace alongside colleagues from Gloucestershire County Council and Cheltenham BID to bring forward additional interventions to support the town's economic recovery.
Cllr Steve Jordan, Leader of Cheltenham Borough Council said: "As our important hospitality sector begins to reopen, it's vital that we continue to do all we can to support these businesses to open and operate as effectively, but also as safely as possible. Our overriding priority remains the health and safety of the public, so once again, I'm grateful to our colleagues at Gloucestershire County Council and Cheltenham BID for helping us to bring forward these additional measures which will ensure safe social distancing can be achieved"
Kevan Blackadder, Director of Cheltenham BID said: "One of the major concerns raised by our hospitality businesses has been that they will lose significant space to serve their customers as they comply with social distancing rules. They were keen to be able to use areas outside their businesses and I'm delighted we've been able to make these changes in Regent Street to allow that to happen."
Cllr Nigel Moor, cabinet member for environment and planning, said: "We're working hard, alongside our district colleagues, to make it easier and safer to walk and cycle right across the county – with more plans coming soon. In Cheltenham, Regent Street is a key pedestrian link between the Promenade, Regent Arcade and the Cheltenham High Street, and these changes will help visitors to stay apart and stay safe."
All loading and disabled bays on Regent Street have been kept as part of this scheme. No parking bays have been changed, as one lane of the road has been reallocated with water-filled barriers and a priority traffic system in place.
In line with the latest government guidelines, this Saturday 4 July will see many of Cheltenham's pubs, restaurants, cafes and hotels reopening and welcoming customers and guests for the first time since March. Details of those businesses that will be opening can be found at www.visitcheltenham.com/open.
The additional measures introduced by Cheltenham Borough Council have been supported by additional government funding from the Reopening High Streets Safely Fund (RHSS) which has seen £50m from the European Regional Development Fund shared between all Councils in England aimed at supporting the safe reopening of high streets.
---
For press enquiries contact: communications@cheltenham.gov.uk, 01242 264231
Notes:
Cheltenham Borough Council has received £103,577 from the Reopening High Streets Safely Fund (RHSS). This funding is from the England European Regional Development Fund as part of the European Structural and Investment Funds Growth Programme 2014-2020. The Ministry of Housing, Communities and Local Government (and in London the intermediate body Greater London Authority) is the Managing Authority for European Regional Development Fund.
Established by the European Union, the European Regional Development Fund helps local areas stimulate their economic development by investing in projects which will support innovation, businesses, create jobs and local community regenerations. For more information visit https://www.gov.uk/european-growth-funding.